Homeowners often wonder how much does pressure washing cost, and if that price is worth it! The answer to the second part of that question is a definite yes, as regular power washing not only improves curb appeal but also protects properties from damage.
Homeowners might spend an average of $0.40 per square foot or from $25 to $100 per hour for power washing. Most power washing jobs range from $150 to $400 per surface or area to be cleaned, and this price might increase for specialty care such as mildew treatments or for especially filthy properties.
A power washing contractor near you is the best source of accurate information when it comes to pressure washing rates in your area, and can offer an exact quote for the cleaning you need to have done. However, so you know what to expect by way of power washing costs, consider some averages broken down by various surfaces around the property, and some additional factors that can influence those costs.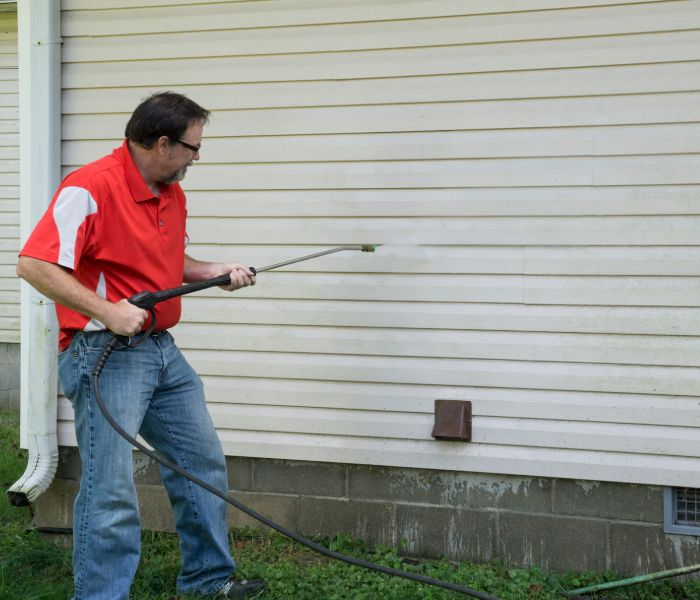 Homeowners and commercial property owners would also do well to consider what might need pressure washing on their property and why this work is so beneficial. You can then make the best decision for your home or business and know that every exterior surface is clean and pristine and in good condition!
How Much Does Pressure Washing Cost, in Detail
Since most property owners schedule pressure washing for just one exterior surface or feature at a time, it's helpful to break down average costs accordingly. As always, remember that this is just a general guide and that your actual power washing costs will vary.
Roof power washing costs
Never overlook needed roof power washing! Regular pressure washing removes damaging dirt and debris, as well as bothersome mold and mildew. Homeowners can expect to pay between $0.20 and $0.60 per square foot for roof pressure washing, or about $275 to $575. Final roof power washing costs are about $400 for most homeowners.
Note what might add to your overall costs for roof pressure washing. Additional stories are usually an extra $0.10 per square foot, as these are more difficult to reach. A very steep roof might add $0.15 per square foot to your costs.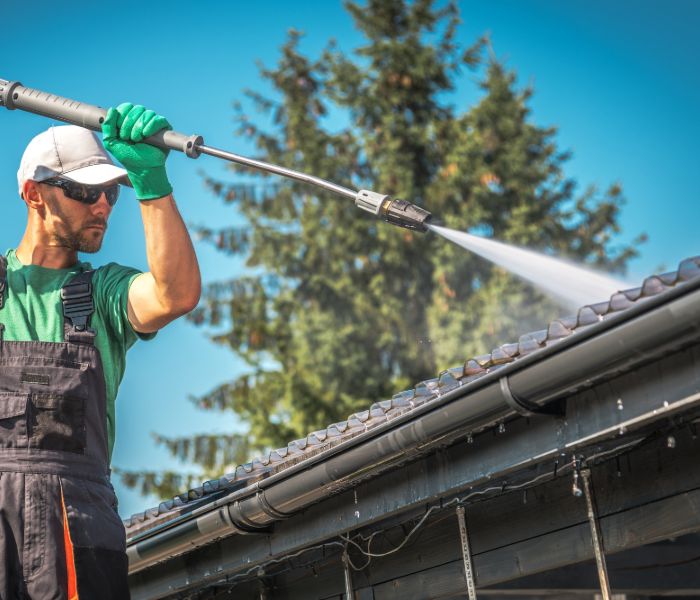 Roof stain removal, including mold, moss, and algae removal or salt buildup removal, might add $50 to $100 to your overall costs. A roof moss treatment, added after cleaning, helps prevent moss from developing on your roof again; this treatment might run an added $100 to $200 total.
Exterior wall washing costs
Cleaning away dust, soot, mud, and other debris from a home's exterior walls ensures a clean and pristine property that's in good condition and looking its best. Most power washing contractors charge between $0.15 and $0.75 per square foot for exterior house washing, adjusting the price according to levels of dirt, if the home's walls are difficult to access, and for added stories.
Most homeowners will pay around $285 for exterior house washing. Some contractors might also offer a flat rate, such as $100 for two sides of the home or for spot cleaning, such as for removing soot over the barbecue or outside kitchen. Cleaning excessive mold, dust, and other grime from a home will typically add to your costs accordingly.
Driveway power washing costs
Average driveway power washing costs range from $115 to just over $300, with most homeowners paying around $225 for driveway and front walkway cleaning. Average costs run $0.30 to $0.40 per square foot, with prices hitting the higher end if your power washing contractor needs to use hot water, such as for oily stains or mold buildup. Per hour, a power washing contractor might charge $50 to $100 for driveways and walkways.
Soft wash cleaning typically doesn't cost more than standard power washing but is usually preferred for asphalt driveways and painted concrete. Soft wash pressure washing won't damage aggregate, paint, stains, and other finishes, while still offering a deep, thorough clean.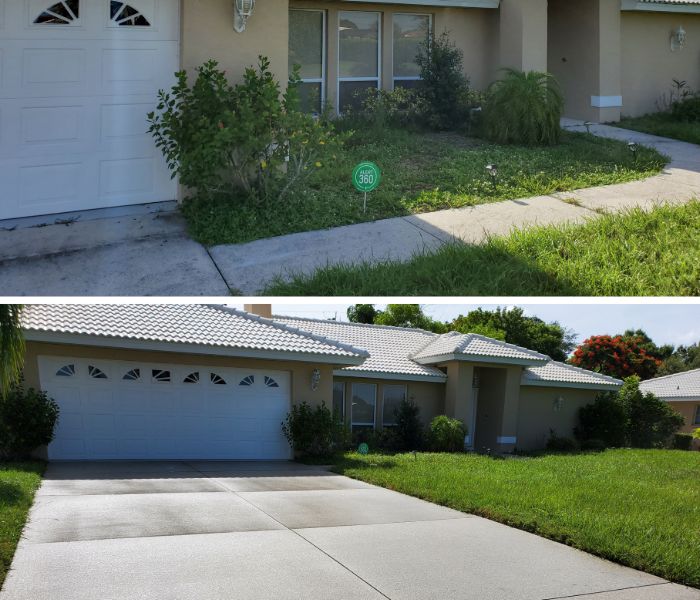 Some companies might also charge more for longer driveways. As an example, a power washing contractor might offer a base price of $50 to $80 and then add another $0.10 to $0.30 per square foot for driveways over 400 square feet. This ensures your pressure washing contractor will make enough money to justify their time even if your property's driveway is especially small, while also compensating them for larger driveways that take up more of their time and materials.
Patio and pool deck power washing costs
Patio power washing costs are often somewhat higher than other costs, as patios and paver stones might need a bit more time and attention for a safe yet thorough clean. On average, a homeowner might expect to pay between $0.30 and $0.45 per square foot for patio power washing, or between $150 to $200 in total.
Because patios are often smaller than other areas around your property needing power washing, a contractor might also offer a flat rate for cleaning, usually around $150 to $175. He or she might add to this rate for specialty services such as paver sealing or moss treatment.
Wood deck pressure washing costs
Wood decks and fences might also need specialty cleaning, so as to avoid scratching or otherwise damaging wood or making splintered sections larger. Wood materials also might need hand scrubbing with specialty brushes, to remove mold and mildew.
On average, wood deck pressure washing costs range from $0.30 to $0.40 per square foot, or $150 to $200 for a 500 square foot area. If a deck requires hand washing, your contractor might add a flat rate to this amount, usually around $100 to $150 or more for every 500 square feet.
Some contractors might also charge at the low end of these costs for aluminum decks or dense woods like bamboo, as these are naturally stain-resistant and typically don't need as much scrubbing to get clean. If you schedule deck washing regularly, you might also pay less as the deck is likely to be cleaner and won't need a detailed power washing.
Fence power washing costs
Power washing fences removes damaging mold and mildew as well as pollen, grass clippings, and unsightly dirt and mud. Fence power washing costs average $0.30 to $0.45 per square foot, or $150 to $300 for a standard six-foot-tall privacy fence surrounding a modest-sized yard.
Gutter cleaning costs
Gutter cleaning is one of the best investments in any home! Clean gutters ensure rainwater and melting snow are directed to downspouts and away from the house. Most contractors charge between $0.50 and $1.25 per linear foot, which might then average between $50 and $175 for an average-sized home.
Hourly Pressure Washing Rates
Power washing contractors typically don't charge by the hour except for small or specialty jobs, which is actually helpful as you want to know your contractor is offering a thorough clean but not padding their time while on your property! However, some pressure washing companies might charge anywhere from $50 to $150 per hour for basic power washing and scrubbing.
Some power washing companies might also offer a starting rate with additional charges per square foot of surface to be cleaned. For example, a power washing contractor might quote $100 for deck cleaning up to 500 square feet, with an additional $0.10 added for every square foot after that, or for scrubbing mildew from deck surfaces.
Quoting a Pressure Washing Job
Understanding how power washing contractors quote a job can help you understand what to expect when you schedule this service. Note that most pressure washing companies will have a minimum charge per square foot, and that starting price might vary for different surfaces around the property; for instance, driveway power washing might cost less than roof cleaning, since contractors don't need ladders or other special equipment to reach the driveway!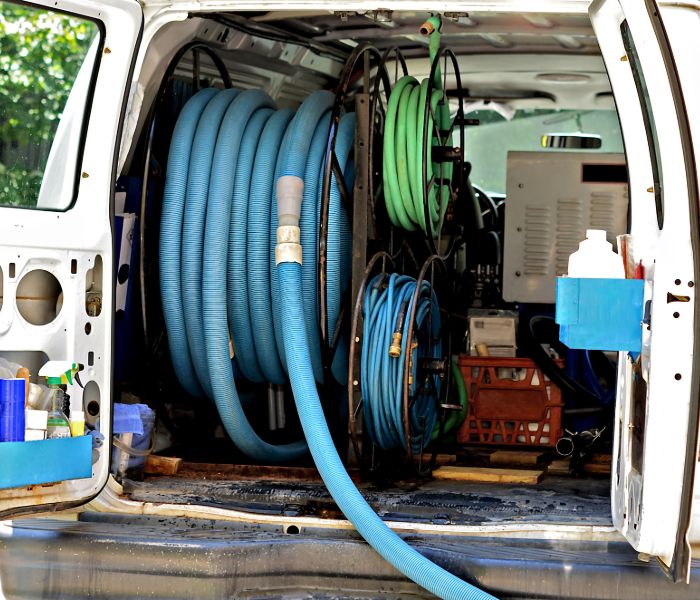 Many power washing contractors will then typically add charges for specialty cleaning, such as mold removal from exterior walls or cleaning algae on roofing shingles. He or she might ask if the property will need that added cleaning or will inspect the property before offering a final quote. Depending on the home's size and levels of dirt, your contractor might increase the charge per square footage or add a certain flat rate to your costs.
Some contractors might offer an hourly rate charge if you only need certain areas of the property cleaned; for instance, if there is soot on the wall over your outdoor kitchen, you might not need the entire wall cleaned. Your contractor might then charge an hourly rate for just cleaning that spot, or tackling a certain stained area of the driveway, and so on.
Does Pressure Washing Increase a Water Bill?
While pressure washing does increase your water bill, it's vital to note that this cost probably isn't as much as you might think! High-pressure nozzles typically use less water than a garden hose; since the water is applied at a higher pressure, less of that water actually comes out of a pressure washing wand than a hose.
Also, keep in mind that soft wash systems might even use less water than standard power washing. Soft wash cleaning starts with specialty detergents or surfactants designed to dissolve thick dirt and grime so that low-pressure rinsing can then remove it from exterior surfaces easily.
A property owner should also remember that pressure washing does more than just improve curb appeal; this service removes dirt, sand, silt, mud, air pollution residues, soot, dried dust, and storm debris that can otherwise damage brick, siding, shingles, and other materials. Power washing costs are typically lower than the cost of repairs from damage caused by abrasive silt and other residues along your property!
Homeowners who spend time outside their home regularly should also consider the benefit of removing bothersome dust, mold, mildew, pollen, soot, and other irritants from exterior surfaces, and especially if you already suffer from asthma, allergies, or similar health concerns. You will breathe easier and enjoy improved air quality when you invest in regular pressure washing for your property!
Advantages of Hiring a Power Washing Company
Hiring a pressure washing contractor will typically cost more than renting equipment or even investing in equipment to use regularly, but there are many advantages to relying on a power washing professional. Consider a few of those benefits here so you can make the best decision for your property:
Different surfaces and materials might need different cleansers or none at all. Using the wrong detergent or one on a surface that doesn't need a cleanser can mean unsightly streaks left behind, or an ineffective clean. Professional power washing contractors know the right products for every surface around your property, ensuring a thorough clean.

 

Improper cleaning methods including using too much pressure damages building materials easily. An inexperienced homeowner might chip brick, dent siding, blow shingles off the roof, split wood fixtures, or even shatter exterior glass while power washing! A pressure washing contractor is trained on safe yet effective cleaning methods.

It's also easy for a homeowner to damage landscaping features or dislodge mulch and gravel when power washing their property. Professionals know how to avoid your beautiful flower and shrubs and other features while cleaning.

Power washing is often more dangerous than property owners realize! Even if you're careful to avoid aiming the pressure washing wand at someone directly, splattering water and cleanser in your eyes or someone else's eyes can mean serious injury. It's also easy to lose your balance on a ladder or when trying to manage heavy-duty pressure washing equipment, also risking injury.

Along with injury risks, using power washing equipment near electrical equipment can mean short circuits and other damage, even electrical fires!

Skilled and experienced pressure washing contractors make quick work of cleaning every surface around your property, no matter the levels of dirt and grime. Paying someone to manage pressure washing can be an excellent investment in your time, as you then won't need to set aside an entire day, or even more than one day, to get your property clean and pristine.

Reputable washing companies are insured. In the unlikely case that something is damaged during the cleaning process, you could then get reimbursed for the cost of repairs.
Should You Pressure Wash a Newly Constructed House?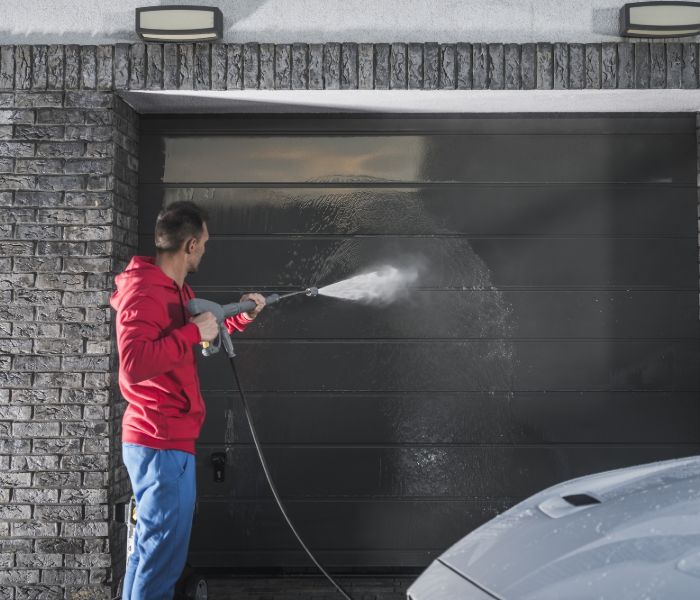 One great advantage of moving into a newly constructed house is that it should be in excellent condition, and not need repairs for several years! Owning a newly constructed home can mean putting off a needed roof and foundation inspections since those materials should stay in good condition long after you move.
However, note that cleaning a property and making needed repairs are very different, and a home's age does not affect whether or not it's covered with dirt, mud, sand, storm debris, and other residues. Even a newly constructed home can see its gutters clog after a year, or after one very strong storm. Airborne soot from a busy roadway, pollution residues, and dust can cover any structure no matter its age.
To keep your newly constructed home looking as beautiful as the day you moved in, schedule pressure washing every year or every other year, or as often as needed for your area. This will ensure your new home stays clean and pristine and in good condition for as long as possible.
When to Schedule Pressure Washing Services
Never put off needed power washing for your property, no matter your estimated pressure washing costs! This service offers many benefits for homeowners and should be scheduled every year or two at most, and even more often in certain areas. Check out what is meant by that and how often you might schedule pressure washing for your property:
Storm debris, mold, and algae are especially damaging to roofing shingles and tiles, working their way under and around these pieces and lifting them from their connectors. Consider annual roof washing for properties in tropical areas or those prone to heavy storms.

Storm debris also tends to end up in gutters, risking clogs and resultant water damage to your home. Check your gutters regularly and schedule annual cleaning, or as often as needed to keep those gutters clean and clog free.

Soot and air pollution residues dry out building materials including shingles, brick, and wood. If you live near a busy highway, marina, airport, or production facility, schedule annual pressure washing, to remove thick layers of soot.

Gritty sand and silt etch brick and exterior glass easily. Homes near water bodies that deposit lots of airborne sand onto exterior surfaces typically need annual pressure washing!

If you have allergies or any breathing disorders, keep in mind that pollen, dust, lawn care chemicals, grass clippings, and other debris clinging to outside surfaces can trigger an attack or make it more difficult to breathe freely. Annual cleaning helps remove those residues and improves air quality on your property.
Homeowners and commercial property owners might also schedule pressure washing whenever it's needed, rather than putting it off for another year or two. For instance, a road construction project might mean airborne dust covering your home, or a busy summer can result in extra soot from the barbecue covering the deck and outside walls. Investing in power washing ensures your property stays clean and pristine over the years.
Clearwater Pressure Washing & Roof Cleaning is happy to provide this information to our readers and hopefully, it helped you better understand how much does pressure washing cost. For the best power washing service, turn to our experienced Clearwater power washing contractors. We have over 20 years of experience and guarantee all our services. For your FREE quote, call us today!