Homeowners often ask, can you pressure wash stucco? This is a vital question, as improper washing techniques damage plaster, wood, painted surfaces, and other materials easily. On the other hand, a dirty house encourages mold and mildew growth and means a very unwelcoming appearance!
You can pressure wash stucco if you use the right nozzle and cleansers. Also, it's vital that you rinse off cleaners quickly so that they don't dry out. Soft wash cleaning is also an excellent choice for stucco and other soft materials, as it avoids damage. Hiring a professional pressure washer can also help you protect your property and avoid costly damage.
Before you go out and rent pressure washing equipment to tackle your home's needed cleaning, keep reading! Knowing some details about the right pressure washing techniques will help prevent stucco damage. Additionally, understanding how pros tackle stucco and other materials can mean a faster, more effective job overall.
Lastly, knowing about stucco pressure washing can tell you when it's time to call a professional! Their services ensure safe, damage-free house washing. Calling a pressure washing contractor also means not having to climb ladders or manage cumbersome equipment. With this in mind, check out how to power wash stucco and other materials around your property.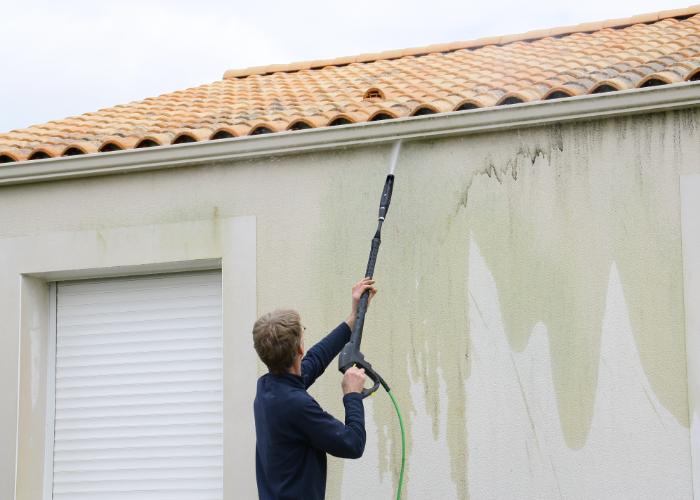 Step by Step for Pressure Washing Stucco
Check out this quick guide for how to pressure wash stucco step-by-step.
Never start power washing any outdoor surface or siding without proper safety gear! This includes eye protection, thick gloves, and work boots or shoes. Avoid wearing sandals or other open-toe shoes, as working with pressurized water risks injury.
Check on cleansers recommended for certain machines. You don't want to add car washing soap, laundry soap, or other detergents not designed for power washing. These clog the equipment and risk damaging your house.
To pressure wash stucco, choose a 1500 PSI machine and a 25-degree green or 40-degree white nozzle. Any more PSI or a narrower nozzle risks damaging the material.
Consider covering landscaping features with protective sheeting. It's especially vital to protect delicate flowers or anything at greater risk of damage.
Cover electrical outlets and features like porch lights with newspaper and masking tape. Make note of these features so you know to work around them as much as possible once you start washing.
Make sure you have adequate extension cords and plan what plugs you'll use before you start working. For instance, you might use an outlet in the garage to clean a home's backside.
Patch any cracks or holes in the stucco as needed. Spraying over these allows water to seep into a home's framing, risking damage.
Rinse the home without detergent to wet it down and remove thick dirt. Start from the bottom and work your way up. This dislodges as much dirt as possible.
Add detergent to the machine as instructed on the package.
Stand several feet back from the home and begin washing, again from the bottom to the top.
To rinse off the cleaner, start from the top of the home and work your way down.
Work slowly but keep the pressure washing nozzle moving at all times. Holding it in one spot can mean etching or chipping stucco.
Once you've washed the home, go back and note any missed spots or stains that need added work. Use a soft-bristled outdoor brush on tough spots as needed and rinse thoroughly.
Can Pressure Washing Damage Stucco?
In truth, incorrect pressure washing techniques or a high setting on the pressure washer can damage virtually any material, even metal! Too much pressure or standing too close to the stucco surface risks etching it. Also, some homeowners might shortsightedly concentrate the washing wand on one spot, perhaps to tackle a stain. However, that high-pressure spray can work like a drill, chipping off or boring a hole right through the stucco surface.
Also, overly strong cleaners might dry against the stucco, creating streaks. Failing to rinse cleansers from any surface also leaves behind a sticky film. That film captures more dirt so that your home might look dirtier again before too long!
Lastly, note that it's not uncommon for homeowners to damage materials and surfaces next to those stucco surfaces. For instance, did you know that pressure washing can shred window and door screens and shatter glass? If you're not careful when working, you could easily break a window, rip apart screens, slice through your landscaping, and the like.
To avoid all these risks, start with a lower pressure during cleaning and rinsing. If this doesn't offer a thorough clean, swap out your nozzle to something thinner. Also, stand at least five feet away from the home while washing. Again, if this seems insufficient, you can then move closer as needed.
How Much Pressure Do You Need to Pressure Wash Stucco?
Homeowners might not realize that pressure washing equipment comes with different nozzles. These provide a range of pressure and varying cleaning widths. Wider nozzles let you clean larger areas faster but also mean less water pressure overall.
A black pressure washing nozzle has the largest opening, designed for thick soaps. White nozzles offer a 40-degree cleaning angle, typically the widest spray available. This is an excellent choice for houses, as the wider spray cleans large outside walls quickly.
A 25-degree green nozzle means less width but more pressure. When cleaning stucco, start with the 40-degree nozzle and switch to the 25-degree option if that doesn't offer enough cleaning power. A 25-degree nozzle is also good for tackling thick dirt in various areas.
Fifteen-degree and 0-degree nozzles are not the best choice for soft stucco. Their higher pressure risks cracking or even drilling right through the material! These are also dangerous for windows and painted surfaces.
What Is the Best Stucco Cleaner?
You might find stucco cleaners at your local home improvement store or wherever you rent pressure washing equipment. However, you can also make a 50-50 bleach and water mixture for stucco cleaning. Bleach cleans mold, mildew, algae, and other growth on stucco walls. Additionally, bleach helps break down thick mud and dirt, for easier rinsing.
Also, you might use a mixture of diluted borax and dish soap for cleaning stucco walls. Borax doesn't create the same unpleasant bleach smell while still offering outstanding cleaning. A borax mixture is especially useful for rust stains and limescale buildup.
Lastly, remember to pressure wash your home with plain water first before using cleanser. You might be surprised at the results of pressurized water without added cleaners! Also, if you do use a cleaner, rinse it thoroughly so it doesn't leave behind sticky residues.
Black Stains on Stucco: What's the Cause
In most cases, algae cause black stains on exterior stucco. Address this issue with a bleach and water mixture, as said. You can also try diluted dish soap if you don't like bleach smells outside your home. Apply the cleaning solution with a soft bristle brush thoroughly. Ensure you rinse both mixtures thoroughly so you don't leave anything behind.
Local home improvement stores also offer cleansers designed for mold, mildew or algae growth on stucco. When using these products, ensure you mix them according to package directions. Don't assume that undiluted mixtures are better or more effective! To the contrary, too much cleanser can damage stucco and other materials around your property.
Maintaining Your Stucco Surfaces
One common mistake homeowners make with a stucco home is simply painting over cracks and other imperfections. Also, a homeowner might add new paint over existing paint when they want to update the look.
However, note that stucco needs to "breathe" to avoid cracking and other damage. The air around stucco also helps dry out moisture clinging to its many pits and pores. This keeps that moisture out of the home's interior and away from framing materials.
In turn, too many paint layers can "choke" stucco or cut off needed air circulation. To avoid this issue, hire a sandblasting expert to remove existing paint when necessary. Adding fresh paint made for stucco over the bare walls prevents long-term moisture damage.
Additionally, periodically removing paint from stucco walls allows for a thorough inspection. You can check for small cracks and other developing damage without the paint camouflaging those issues! Then, you can make the necessary repairs and repaint the walls as desired.
How Often Should You Pressure Wash Stucco?
Most homeowners find that annual pressure washing removes dirt and grime sufficiently. However, you might schedule more frequent washing if your home tends to get dirtier faster than most! For instance, nearby production facilities can mean unsightly soot and dust landing on your home's outside walls. Consequently, your property might require professional washing every few months.
Also, anyone with allergies or breathing issues might appreciate more frequent house washing. Pressure washing removes airborne pollen, dust, mold, and similar irritants. Sand and grit also tend to coat beachfront homes or those near the coast. Again, more frequent power washing addresses this issue for these properties.
Above all, power wash a stucco home as often as needed! An uncharacteristically stormy season might leave behind streaked, stained walls. If you cook outdoors, you might notice soot and ash from barbecues and grills coating those walls. Also, if you entertain often, you might simply prefer a clean, pristine space for guests.
It's also vital to schedule stucco pressure washing for special occasions. For instance, it's good to wash a house before putting it on the market! Pressure washing ensures it looks its best for photos and during open houses.
Don't let anyone tell you that power washing is "bad" for your house when completed correctly!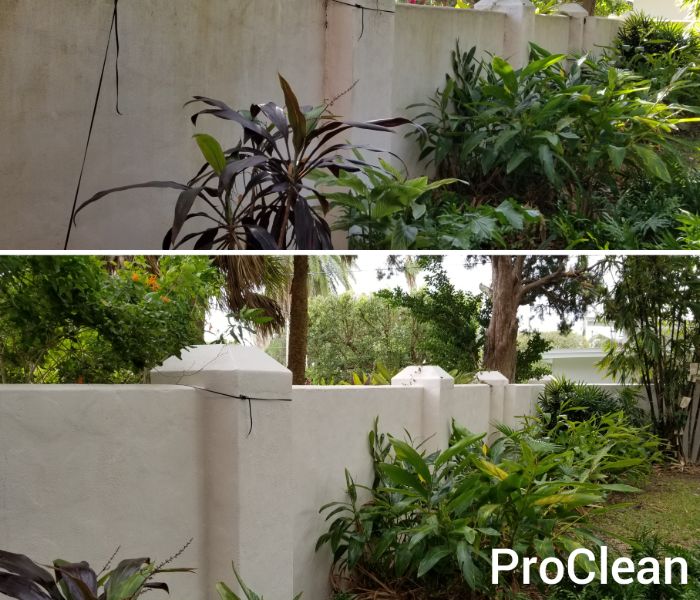 What Time of Year Is Best to Pressure Wash a House?
Unless your home is buried in snow and ice, it's typically fine to pressure wash the exterior whenever it's required. However, check out some added factors to consider when it comes to scheduling pressure washing:
Summertime often means strong storms especially in tropical areas. In turn, you might wait until autumn for exterior pressure washing services. This allows you to remove storm debris from a home's roof and other surfaces.
On the other hand, if you entertain outdoors during summer months, consider springtime power washing! Pressure washing outdoor surfaces before entertaining ensures pristine spaces ready for visitors.
Outdoor entertaining can also mean smoke, soot, ash, and other debris from outdoor cooking landing on your home. Consequently, you might schedule pressure washing in the fall, to remove that debris before closing up the deck or patio for the season.
Springtime in some areas often means high pollen counts and other airborne irritants. Pressure washing removes these irritants for easier breathing when outdoors. In turn, consider scheduling pressure washing services in early summer, for maximum cleaning effectiveness.
Lastly, there is typically no reason you shouldn't pressure wash a property that simply needs cleaning no matter the month! As an example, a neighborhood construction project might have left layers of airborne dirt and dust on your property. Schedule power washing as needed, to keep outdoor areas clean and presentable.
Clearwater Pressure Washing & Roof Cleaning is happy to help answer the question, can you pressure wash stucco? Hopefully, you found this information useful! If so, check out our other blog posts for even more great pressure washing tips. Also, if you're in the area, call our Clearwater pressure washing contractors for your needed cleaning. We offer FREE quotes and guarantee your satisfaction. Our soft wash systems are excellent for roofs, walls, gutters, pool decks, and more. To get your property started on all the power washing you need to have done, call now!