When was the last time you scheduled paver cleaning and sealing in Florida? If it's been a few years, it's probably time to make that call! Professional cleaning removes damaging dirt, gritty debris, and oily stains. Additionally, a thorough wash restores paver colors instantly!
To ensure your property looks its best, check out some signs that it's time for paver cleaning and sealing. Also, you might note a few reasons to schedule this work regularly. In turn, you're sure to enjoy a beautiful outdoor space every day of the year.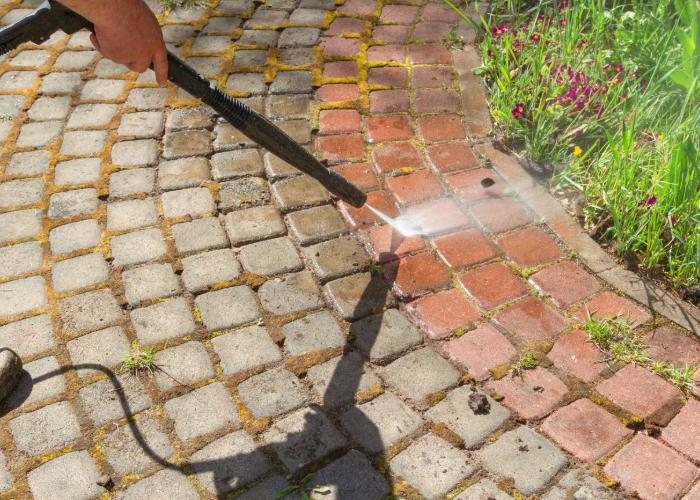 When to Schedule Paver Cleaning and Sealing in Florida
Here are 5 sure signs that you need to consider paver cleaning and sealing in Florida:
1. It's slick underfoot
Moss, mold, algae, sand, and other debris often create slick patio pavers and stones. A slick surface underfoot increases the risk of slips and falls, creating an unsafe property. If you notice that your pavers have lost their traction, schedule paver cleaning, and sealing. Professional paver cleaning and sealing can keep that space safe for your family and visitors.
2. Pavers have aged and faded
In some cases, faded pavers have aged and there's not much you can do to restore their color. On the other hand, some pavers might just need a good cleaning! What you see as fading might only be layers of dirt, sand, dust, and other debris.
Also, note that cleaning removes dirt and grime ground into paver pits and pores. Those stones often look like new after a thorough cleaning. Before you decide it's time for new pavers, first schedule power washing and note the results.
3. Foul odors? It's probably time for paver cleaning and sealing
Mold, air pollution residues, airborne chemicals, and other irritants can mean foul odors on patios and walkways. Also, certain stains, such as from spilled food or pet waste, can also mean unpleasant smells. Expert power washing can remove all that debris and their accompanying odors, for a clean and pristine space.
4. Cleaning can mean easier breathing when outdoors
Don't forget that pollen, dust, and other irritants settle onto patio and walkways pavers. Then, these get ground into those surfaces every time you walk on them. Dirty pavers might mean an increase in asthma attacks, allergic reactions, and other health concerns.
Regular patio paver cleaning and sealing help reduce these risks. It can also mean easier breathing, especially for those with sensitivities. If you notice your allergies or asthma flaring, consider a thorough power washing for your property.
5. You've tried homemade cleaning solutions
If you've tried DIY power washing or homemade cleaning solutions and they haven't worked for your pavers, call a pro. A professional power washing contractor knows the right tools, detergents, and techniques to use on pavers. Additionally, commercial companies often have access to specialty cleaners that property owners can't find.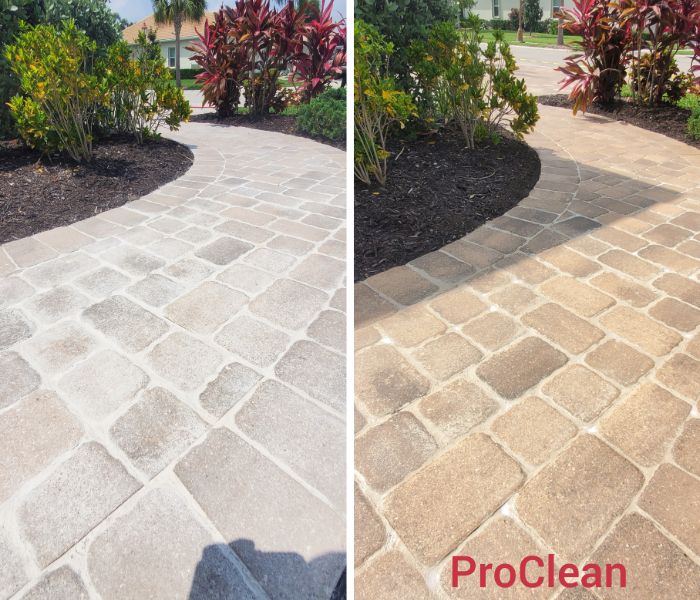 Why Schedule Paver Cleaning and Sealing
Professional paver power washing and sealing offer many benefits for your property! Note just a few here so you know why it's vital to make that call:
Dirt and other debris often damage pavers and similar materials. These can dry out clay, stone, and brick, making them more prone to cracking. Regular cleaning can then prolong the lifespan of your patio materials.
Without regular cleaning, mold and other irritants can grow and spread quickly. These can also work their way into the pitted surface of pavers, risking damage. Professional power washing kills mold spores and similar growth, reducing the risk of damage.
Cleaning and sealing helps kill weeds growing between pavers and hinders their growth. You can then enjoy a more pristine outdoor space when you invest in cleaning and sealing.
Sealants provide an added layer of protection against harsh sunlight, high winds, damaging tools, and the like. Your pavers will last far longer if you invest in regular sealing than if you don't!
Professional power washing restores the color and shine of pavers. In turn, you might find that you don't need to replace them as expected. Cleaning can then potentially save you thousands of dollars that you would otherwise spend on new stone for your property.
Clearwater Pressure Washing & Roof Cleaning is happy to provide these warning signs that it's time for paver cleaning and sealing in Florida state. If you found it helpful, check out our other posts for more tips and advice. Also, call our Florida power washers when you're in the market for expert, affordable services. Give us a call today!